Special Night4Sight Honors Lehigh Valley Lions, Highlights Personal Triumphs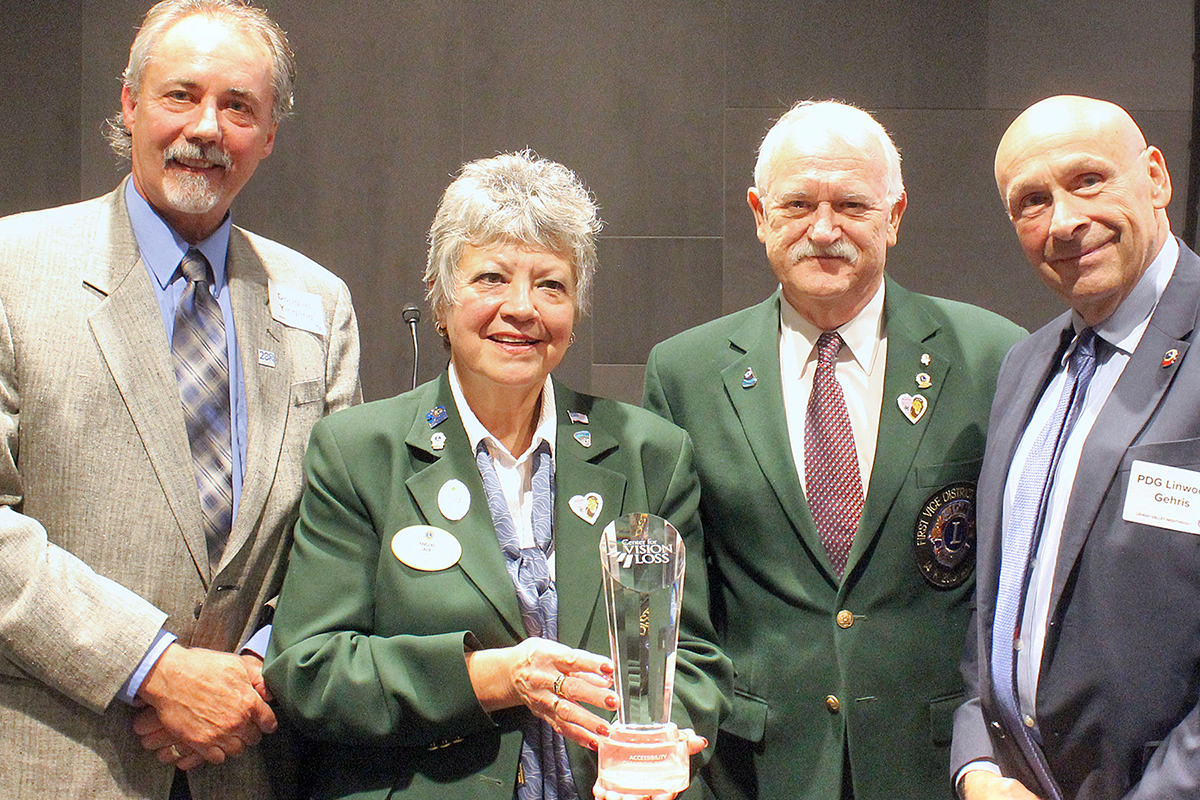 The Center for Vision Loss honored the Lions Clubs of Lehigh and Northampton counties and a Paralympic champion inspired agency supporters tonight during a special Lehigh Valley Night4Sight event, presented by ESSA Bank & Trust.
The Center for Vision Loss presented its 2018 Accessibility Champion Award to Pennsylvania Lions District 14-K and its member clubs for starting the movement to serve people in Lehigh and Northampton counties with visual impairments and for more than 90 years of leadership and support. Called to action by a speech by iconic activist Helen Keller, area Lions formed branches of the Pennsylvania Association of the Blind in both Lehigh and Northampton counties in 1928. Those organizations evolved throughout the 20th century and consolidated in 2010 to form the present-day organization.
Four-time U.S. Paralympian and 1992 Gold Medalist Pam McGonigle shared her unique story of overcoming adversity. McGonigle, who lives in Ardmore, PA, was born with albinism – a condition that prevents a person's retina from developing fully – and cataracts. After her 1992 win in the 3,000-meter run, McGonigle competed in the 1996, 2000, and 2004 Paralympics. She is the adopted mother of a boy who was born with albinism in China and she is the Director of Development for the U.S. Association of Blind Athletes.
Held at Lehigh University's Iacocca Conference Center, Lehigh Valley Night4Sight also included dinner, silent auction, and the musical stylings of award-winning guitarist Frank Porter. The evening's theme of personal triumph was inspired by the agency's mission statement – to enable personal triumphs over visual impairments – which was adopted in July. The agency honored the Lions Clubs because they helped spark that mission decades before and chose Pam McGonigle to speak because her story of personal triumph embodies its spirit.
Night4Sight benefited the Center for Vision Loss and its services. Additional sponsors included Champion Sponsor Lehigh Eye Specialists; Gold Sponsors ASR Media Productions, Gerhart & Associates, Gross McGinley Attorneys at Law, and Inova Technologies; Silver Sponsors Buckno Lisicky & Company; Easton Coach Company; Fox Optical & Gallery; Lang Faylor Chomo & Company; UGI; and Mike and Mila Wambaugh; Bronze Sponsors A Definite Edge Management Consulting, Advanced Family Eye Care, J.S. Burkholder Funeral Home, Elite Sealcoating, Good Shepherd Rehabilitation Network, HMK Insurance, Legend of Allentown, RLB Accountants, St. Luke's University Health Network, Ed and Rosalie Vogrins, and Doug and Andrea Yingling; Associate Sponsors Pauline Giba, Britt Harris, Lehigh Valley Council of the Blind, John Sagi, Wegmans Bethlehem, and Dennis Zehner and Family; and Print Sponsor EBC Printing.