Sights for Hope Service Providers Earn National Certifications for Best Practices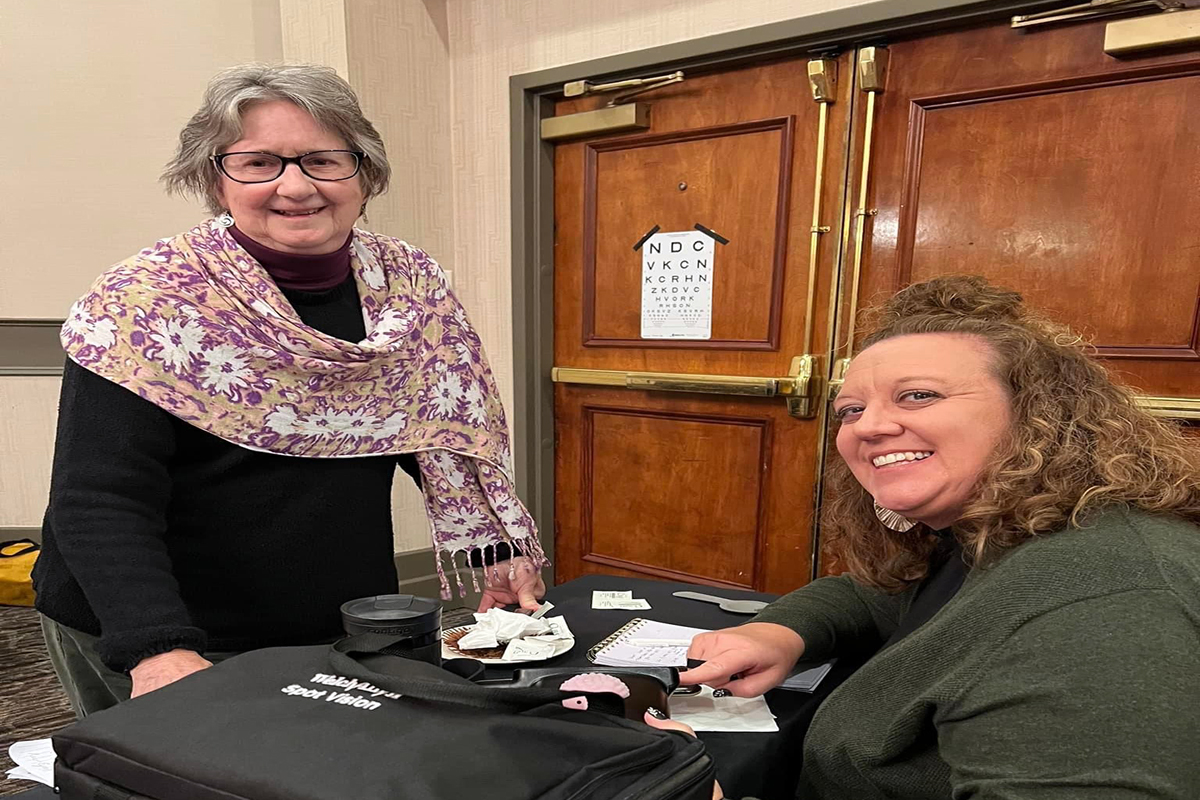 Seven Sights for Hope service providers have earned national certifications recently by meeting best practices for their disciplines.
Vision Rehabilitation Therapist Dianne Michels earned five-year reaccreditations as both a Certified Vision Rehabilitation Therapist and a Certified Low Vision Therapist from the Academy for Certification of Vision Rehabilitation & Education Professionals.
Prevention Specialist Ruthie Asmus; Prevention Specialist Angela Hill; Prevention Specialist Colleen Rountree; Client Caseworker Erica Vibert; Client Caseworker Melinda Weston; and Jennifer Pandolfo, Associate Director and Director of Services, have earned three-year certifications as children's vision screeners from the national Prevent Blindness program.
Michels teaches Sights for Hope clients how to use their existing vision most effectively and how to apply specific functional skills – including Braille, kitchen safety, the preparation and cooking of meals, the completion of checks and forms, personal organization, and adjustments to in-home lighting. The Academy for Certification of Vision Rehabilitation & Education Professionals applies rigorous standards related to knowledge, skills, and professionalism. Michels has taught vision rehabilitation with Sights for Hope for more than 24 years over three tenures beginning in 1980.
The Prevent Blindness program certifications are based on national guidelines and best practices on evidence-based vision screening tools and procedures for children. Sights for Hope's vision screenings for children ages 0-6 anchor its prevention services – which help children start school free from a critical barrier to learning and promote eye health, eye safety, and inclusion of people with visual impairments throughout our communities.
Sights for Hope's screenings are conducted with advanced hand-held Spot Vision Screener that is highly accurate in the determination of conditions such as nearsightedness, farsightedness, astigmatisms, strabismus, and amblyopia. It also is especially effective for use with children who are on the autism spectrum, have other physical challenges, or have language difficulties. Families of children referred for a professional eye exam receive printed screening results. Sights for Hope also is working to ensure that 2,500 of the children it screens receive eye exams and glasses by 2030.
Sights for Hope transforms the lives of people with visual impairments and blindness by removing the barriers to their independence. Sights for Hope's services teach adaptive skills to accomplish daily life activities; provide supports that counter the effects of visual impairments and blindness; increase access to medical care, healthy food, and other essentials; and advance solutions that enhance sight capabilities. More than 40% of Sights for Hope's clients live below or near the federal poverty line. Founded in 1928, Sights for Hope carries forward in Pennsylvania's Lehigh Valley and Monroe County a tradition of service inspired by Helen Keller and is a member of the Pennsylvania Association for the Blind.
Image: Photo of two of Sights for Hope's Prevention Specialists and pieces of screening equipment.