Sights for Hope Marks Milestone with Advanced Braille Program Graduation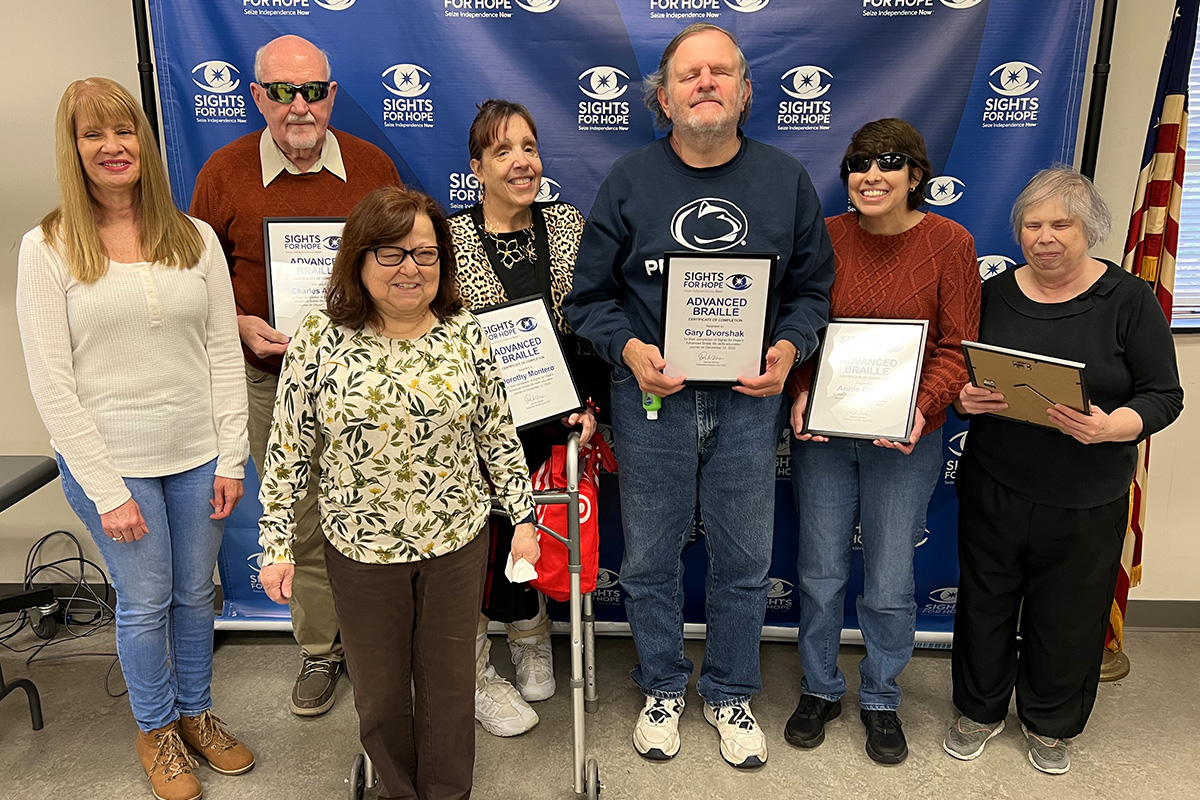 Sights for Hope marked a milestone this week by holding a graduation for the first clients in more than 40 years to complete its Advanced Braille life skills education program.
The four graduates had been studying what is known as grade 2 Braille, or contracted Braille, for more than two years. When the COVID-19 pandemic began in 2020, they figured out a way to press on by phone with their instructor – Sights for Hope's Vision Rehabilitation Therapist Dianne Michels – and volunteer teaching assistant Annette Gozzard. They also met on their own and challenged each other almost every day to translate words and phrases sent by text message.
The class that graduated this week is the first that Michels has taught at Sights for Hope – an organization with which she has been working for more than 24 years over three tenures beginning in 1980.
"Learning contracted Braille is no small feat typically, and these clients showed extraordinary dedication under these circumstances," Michels said. "Their achievement shows that a will to overcome barriers has a potential far greater than the barriers themselves."
Braille is a tactile representation of alphabetic and numerical symbols using six dots to represent each letter, each number, and symbols used in music, mathematics, and science. Named after its 19th century French inventor Louis Braille, Braille is used by people with visual impairments to read the same books and periodicals as those printed with visual fonts.
Contracted Braille is a form practiced by people who desire to read and become more immersed in Braille. It uses the same letters, punctuations, and numbers as grade 1 Braille, or uncontracted Braille. Grade 2 Braille adds symbols for letter combinations such as "ch" and "th," compressed abbreviations for many words, and special symbols for suffixes. Grade 2 Braille requires more extensive memorization and its rules are complex and somewhat ambiguous. All Braille books are written in what professionals say is an extremely complex code. Most people who develop a visual impairment learn only the alphabet in Braille and find it useful in their daily lives.
Braille classes are among the life skills education programs offered by Sights for Hope. Additional topics include kitchen safety, the preparation and cooking of meals, the completion of checks and forms, personal organization, and adjustments to in-home lighting. The programs teach adaptive skills that empower people with visual impairments and blindness to accomplish daily life activities. One of Sights for Hope's Big Impact Goals is to provide life skills education to at least 2,500 people with visual impairments from 2022 to 2030.
Sights for Hope transforms the lives of people with visual impairments and blindness by removing the barriers to their independence. Sights for Hope's services teach adaptive skills to accomplish daily life activities; provide supports that counter the effects of visual impairments and blindness; increase access to medical care, healthy food, and other essentials; and advance solutions that enhance sight capabilities. More than 40% of Sights for Hope's clients live below or near the federal poverty line. Founded in 1928, Sights for Hope carries forward in Pennsylvania's Lehigh Valley and Monroe County a tradition of service inspired by Helen Keller and is a member of the Pennsylvania Association for the Blind.
Image: Photo of the Advanced Braille class graduates, their instructor, and their instructors in front of a Sights for Hope step-and-repeat banner.