Sights for Hope Takes the Field this Season with the Lehigh Valley IronPigs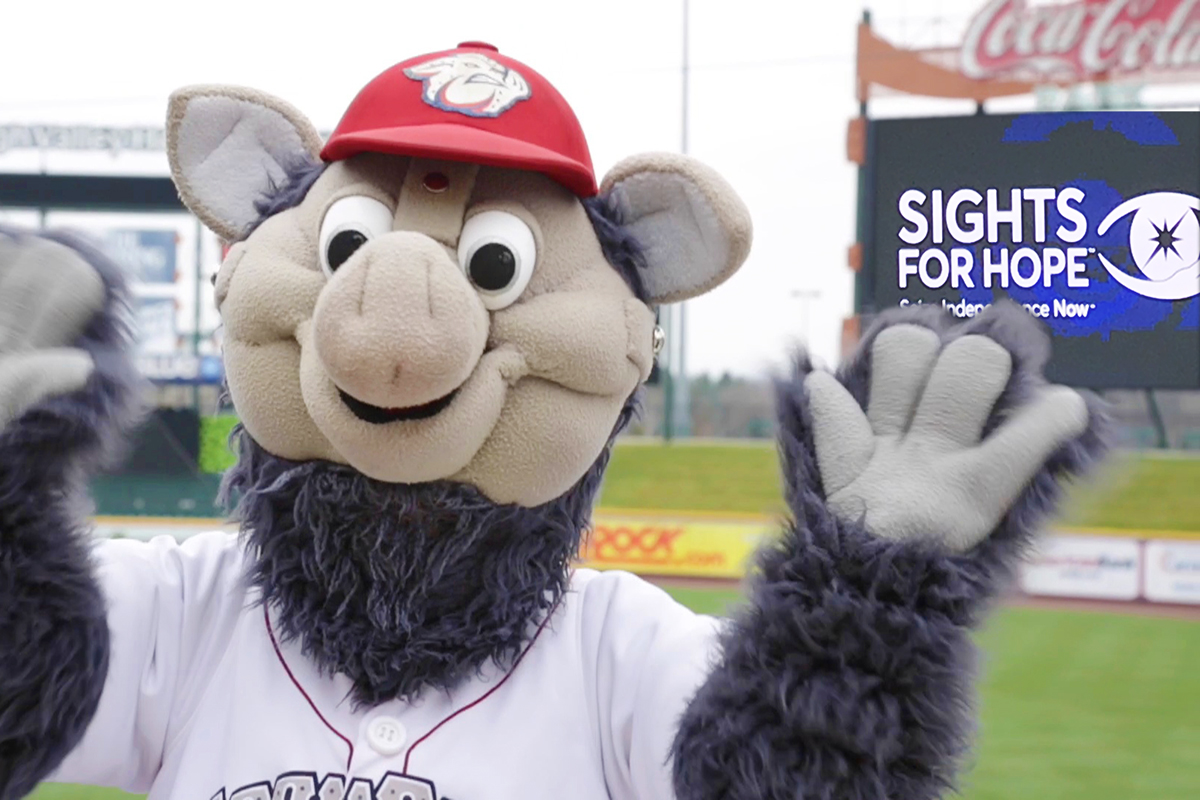 Every time the Lehigh Valley IronPigs take the field this season, Sights for Hope will be part of the action as the baseball team's official sponsor of umpire introductions.
At the start of each IronPigs home game, Sights for Hope will be promoted during umpire introductions inside Coca-Cola Park in Allentown, PA, and on the team's video and audio broadcasts. At the start of each IronPigs road game, its sponsorship will be mentioned on the team's audio broadcasts. Fans will be encouraged to make the right call to Sights for Hope if they face a visual impairment and to not let it strike out their independence. The IronPigs, the top minor league affiliate of the Philadelphia Phillies, are scheduled to play 142 games this season.
Sights for Hope's sponsorship is part of an extended effort to raise awareness of its new name and brand, which it assumed on April 6 after being known as the Center for Vision Loss. Additional publicity efforts have included roadway billboards produced in partnership with Adams Outdoor Advertising and a Sips4Sight promotion at restaurants, coffee shops, and bars in the Lehigh Valley. The brand implementation and promotion was made possible by a special dedicated gift from the affiliated Sights for Hope Endowment Foundation.
"This season-long promotion with the Lehigh Valley IronPigs provides us a unique way to introduce, or to re-introduce, our agency to the community," said Dennis Zehner, Executive Director and CEO of Sights for Hope. "It also highlights the successful decisions that people who live with visual impairments make when they engage with us – the decision to seize their personal independence and to choose hope over loss."
Sights for Hope has partnered with the IronPigs organization previously. Team mascots FeRROUS and FeFe helped unveil the agency's new name and logo during a virtual community announcement. IronPigs Charities also supported the agency's Camp I CAN! summer program for kids in 2020 and will do so again in 2021.
Sights for Hope opens paths to greater independence for people with visual impairments and promotes healthy eyesight for future generations. With operations in Pennsylvania's Lehigh Valley and Monroe County, it combines a service tradition motivated by Helen Keller in 1928 with contemporary practices and advanced technologies. Sights for Hope champions the achievement of important daily tasks, increases access to medical services and food, enhances personal wellness, and extends self-sufficiency for people with visual impairments. The organization also provides free vision screenings for children that stimulate success in school and eye health and safety programs for people of all ages. Sights for Hope impacts more than 10,000 community members in a typical year through its services for people with visual impairments, screenings, and prevention education. All agency services are provided at little or no cost, and 85% of its clients and patients are from low-income households.