Next Sips4Sight Events to Feature Mojo 516 Café, Delta Gamma, McCall Brewing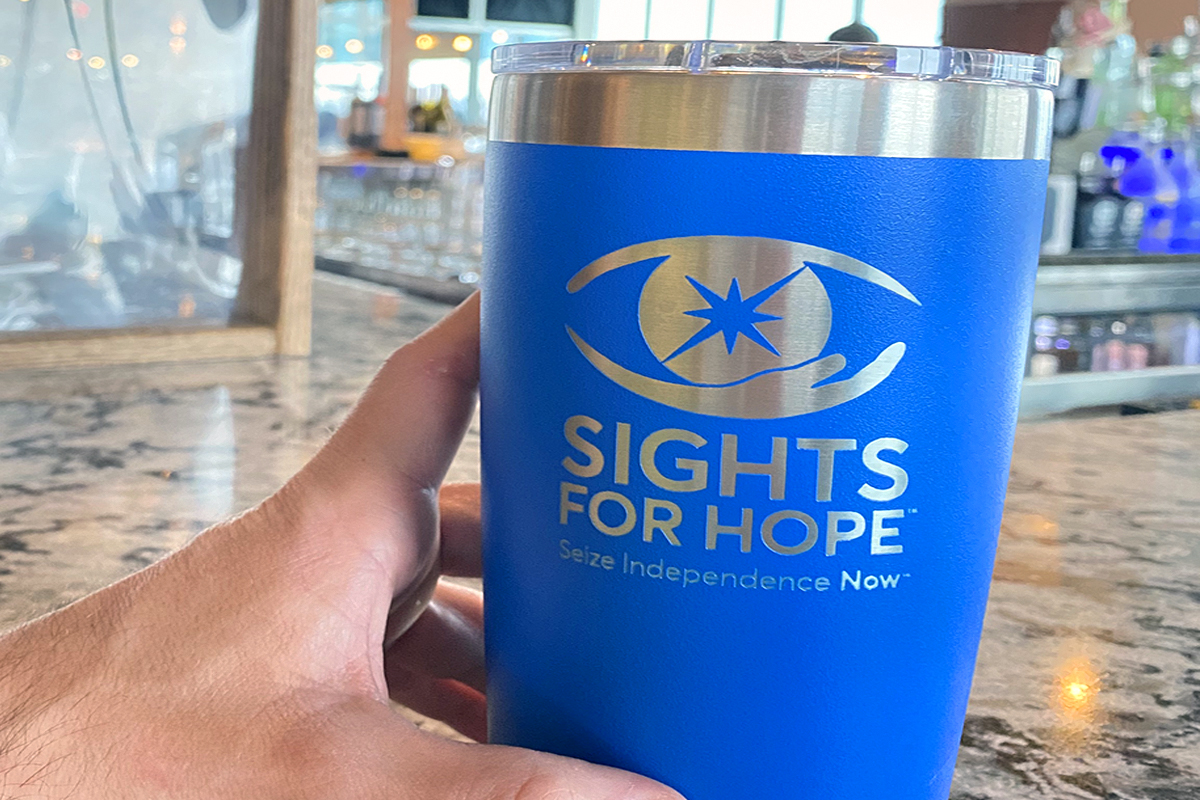 After a successful launch of its Sips4Sight promotion, Sights for Hope will hold its next two events in partnership with Mojo 516 Café, the Delta Gamma sorority at Lafayette College, and McCall Collective Brewing Company.
Guests at participating Sips4Sight restaurants, bars, and businesses can purchase a YETI tumbler emblazoned with the new Sights for Hope logo for $35 and receive a free beverage or gift. All purchase proceeds benefit Sights for Hope, which changed its name from Center for Vision Loss earlier this month.
The Sips4Sight promotion was created to raise awareness of the agency's new identity. On Sips4Sight's opening night, Grille 3501 in Allentown, PA, sold out of its tumbler supply.
On Tuesday, April 20, patrons of Mojo 516 Café in Easton, PA, can receive a free iced coffee, iced tea, or hot coffee with their purchase of YETI tumbler. This Sips4Sight event was developed in collaboration with the Delta Gamma sorority.
"Delta Gamma's Epsilon Xi Chapter at Lafayette College is so proud to work in partnership with Sights for Hope and contribute to their efforts providing resources and awareness in regard to vision loss," said Allison Soper, Vice President of Foundation for the Lafayette College Chapter of Delta Gamma. "At Delta Gamma, it's important to feel as though the non-profit you are collaborating with is actively making a difference and with Sights for Hope we are confident in saying that is the case."
On Thursday, April 22, patrons of McCall Collective Brewing in Allentown, PA, will receive a $5 McCall's gift card with purchase of a Sights for Hope tumbler. McCall Collective will hold its Happy Hour on Thursday from 4-6 p.m. with $1.50 off pints and cocktails for $8. Thursday also is cheesesteak night at McCall Collective so guests are invited to enjoy a delicious cheesesteak from Chef Anthony when they come to purchase their tumblers.
McCall Collective is entirely family-owned and has been committed to the community since before they officially opened their doors to the public. In less than a year since its opening, McCall Collective has already provided support to numerous community nonprofits including Turning Point of Lehigh Valley, the Lehigh Valley YMCA, NAMI Lehigh Valley, and I Support The Girls.
Sights for Hope changed its name to reflect its commitment to empowering people with visual impairments to live with independence, dignity, and hope and to promoting healthy eyesight for future generations.
News Media Contacts
Diana Brown McCloy, Teak Media + Communication; 978.697.9414; diana@teakmedia.com
Hannah Miller, Teak Media + Communication; 413.717.7759; hannah@teakmedia.com