Summer Camp Kids Give Back with Care Items for the Ukrainian People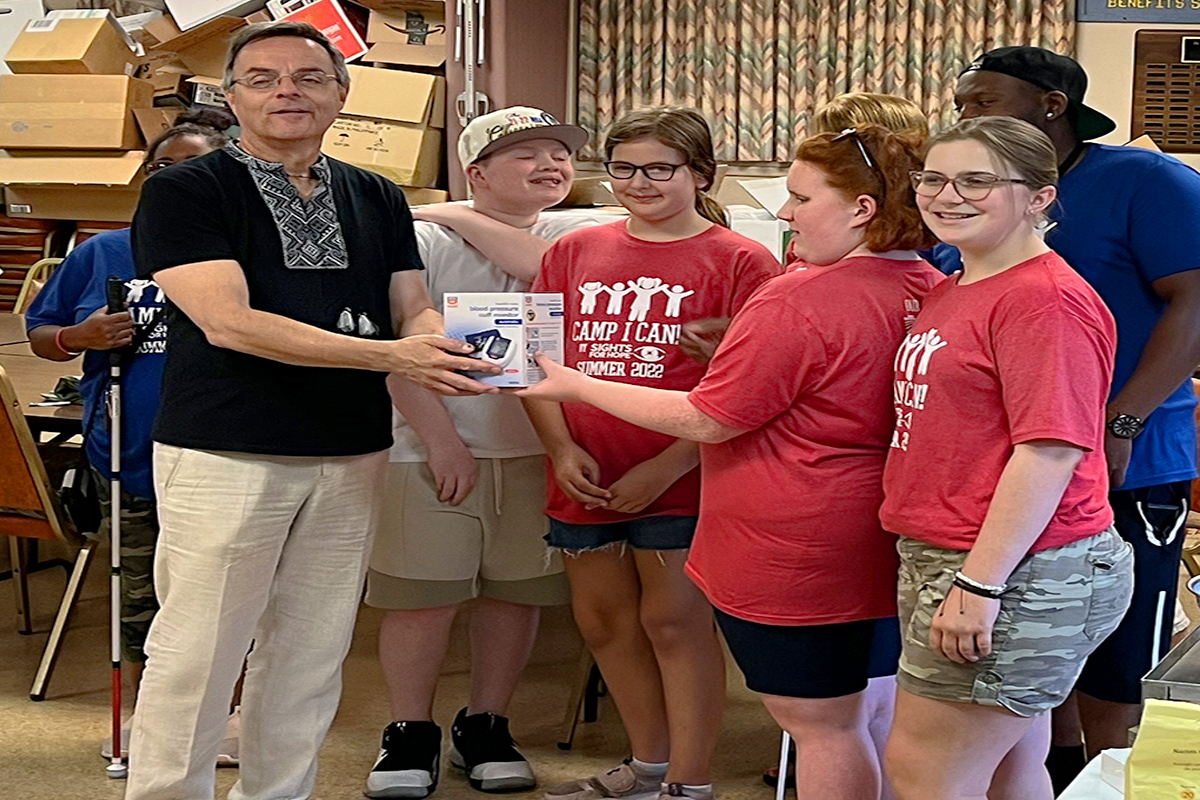 A group of kids who have a special appreciation for personal independence worked this summer to help people fighting for their own independence halfway around the world.
Participants in Sights for Hope's Camp I CAN! summer program donated personal care items to the people of the Ukraine with funds they helped to raise. The campers and Sights for Hope staff members delivered the items – which included underwear, bandages, first aid supplies, and batteries – to the St. Mary Ukrainian Orthodox Church in Allentown, PA, on the program's last day. Church officials will ensure that the items are shipped to the Ukraine, which has been at war with Russia since February.
Camp I CAN! is a program for children with permanent visual impairments. Most campers are ages 7-13. The campers participate in activities that teach adaptive skills to help them live independently as adults. They also enjoy trips to fun destinations and participate in a community service project, from which they learn that their impairments cannot prevent them from making an impact.
"This year's Camp I CAN! project was meaningful because it represents the value of personal independence for both those who will receive it and those who gave it," said Dennis Zehner, Executive Director and CEO of Sights for Hope. "For the people of the Ukraine, it symbolizes the world's support of their struggle for independence. For our campers, it symbolizes their efforts to triumph over the barriers to their personal independence. We hope that it helps instills the value of independence that they take with them for the rest of their lives."
The 2022 Camp I CAN! summer program was underwritten by community leaders Edward and Rosalie Vogrins and the Pennsylvania Bureau of Blindness and Visual Services (BBVS).
The 2021 community service project provided bedding, cleaning supplies, and personal grooming items to the people of the Sixth Street Shelter in Allentown, PA. Prior projects have benefited Animals In Distress; Valley Youth House; Fellowship Manor in Whitehall, PA; and the Good Shepherd Pediatric Rehabilitation program.
Sights for Hope carries forward a service tradition inspired by Helen Keller to remove the barriers between people with visual impairments and their independence. Its services teach them adaptive skills to accomplish daily life activities; provide supports that counter the effects of their conditions and increase their access to essential services, including medical care and healthy food; and advance solutions that enhance their sight capabilities. More than 40% of Sights for Hope's clients live below or near the federal poverty line. Sights for Hope serves Pennsylvania's Lehigh Valley and Monroe County and is a member of the Pennsylvania Association for the Blind and the VisionServe Alliance.
Image: Photo of Camp I CAN! participants donating items to the people of Ukraine at St. Mary Ukrainian Orthodox Church in Allentown, PA.