Agency Activates New Version of its Website to Maximize Digital Accessibility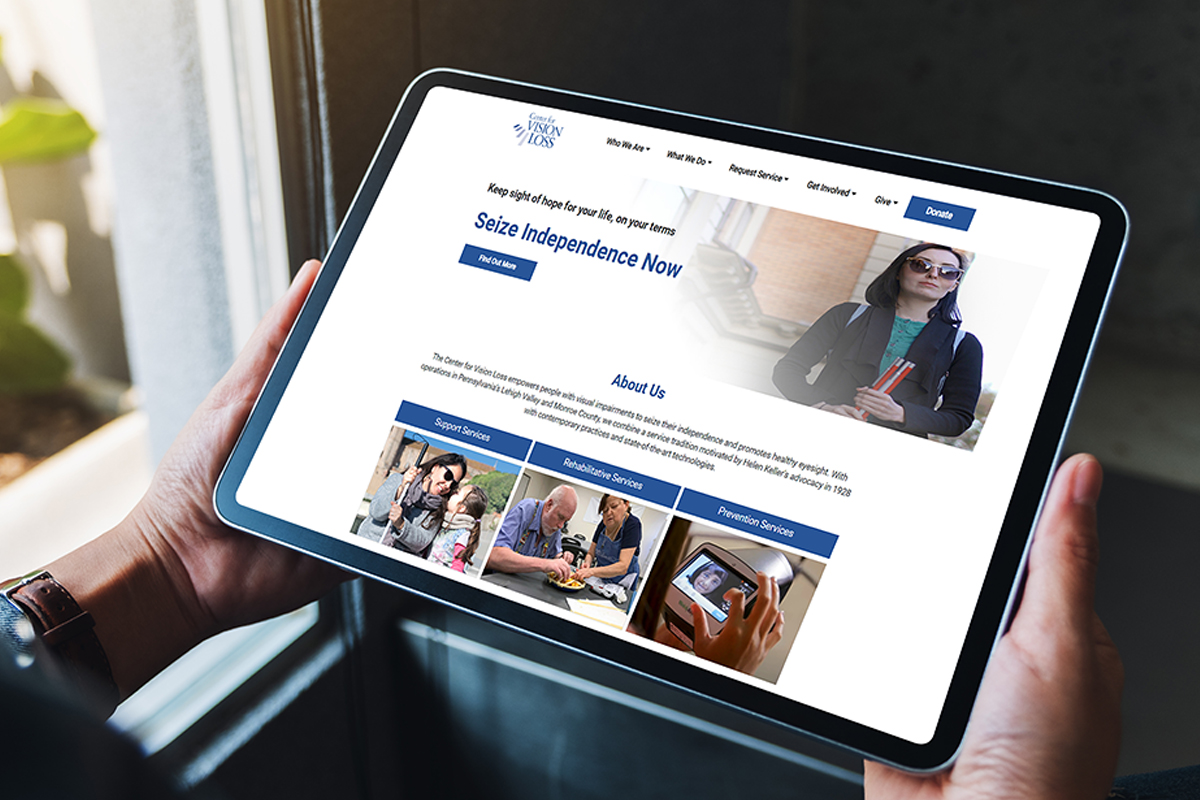 The Center for Vision Loss has activated a new version of its website developed to maximize its accessibility for people with permanent physical impairments.
The new version was produced by Accessibility Shield of Norristown, PA. The company's proprietary tools and platforms make web content accessible by assistive technologies used by people with vision loss and other impairments. Its work aligns with the international Web Content Accessibility Guidelines (WCAG), which is recognized as guidance for digital compliance with the Americans with Disabilities Act (ADA).
Funding for the new version was provided by the affiliated Center for Vision Loss Endowment Foundation.
"We are enthusiastic about the implementation of our new website because it increases the quality of our digital presence and it aligns with our mission in an integral way," said Dennis Zehner, Executive Director of the Center for Vision Loss, who led the site's redevelopment. "As that mission is to enable personal triumphs over visual impairments, it is imperative to appreciate how digital spaces present numerous obstacles for people with those impairments and that efforts to counteract them can be as transformative as those applied in the physical world."
Accessibility Shield will monitor the site regularly and make future adjustments as necessary to ensure the fullest possible compliance with the ADA. The Center for Vision Loss is the first agency of its kind to have its website built completely by the company, which specializes in site testing and remediation.
"It was a pleasure to work with the Center for Vision Loss on creating a fully accessible site that does not compromise on design and functionality," said Jason McKee, Chief Marketing Officer for Accessibility Shield. "The agency provides a great service to the disabled community and we are proud to have played a small role in that effort."
The Center for Vision Loss empowers people with visual impairments to seize their independence and opportunity and champions healthy eyesight throughout its communities. With operations in Pennsylvania's Lehigh Valley and Monroe County, it combines a service tradition motivated by Helen Keller in 1928 with contemporary practices and advanced technologies. Its services for people with visual impairments promote the accomplishment of daily tasks, increased access to medical services and food supplies, enhanced personal wellness, and extended self-sufficiency. Its free vision screenings for children stimulate success in school and its community education programs advocate for eye health and safety. All agency services are provided at little or no cost, and 85% of its clients and patients with visual impairments are from low-income households.
The Center for Vision Loss is an independent member of the Pennsylvania Association for the Blind (PAB) that is accredited nationally by the Association for Education and Rehabilitation of the Blind and Visually Impaired (AER) and affiliated with the VisionServe Alliance, a network of North American agencies that serve people with visual impairments.