Center for Vision Loss Welcomes Five New Members of its Services Team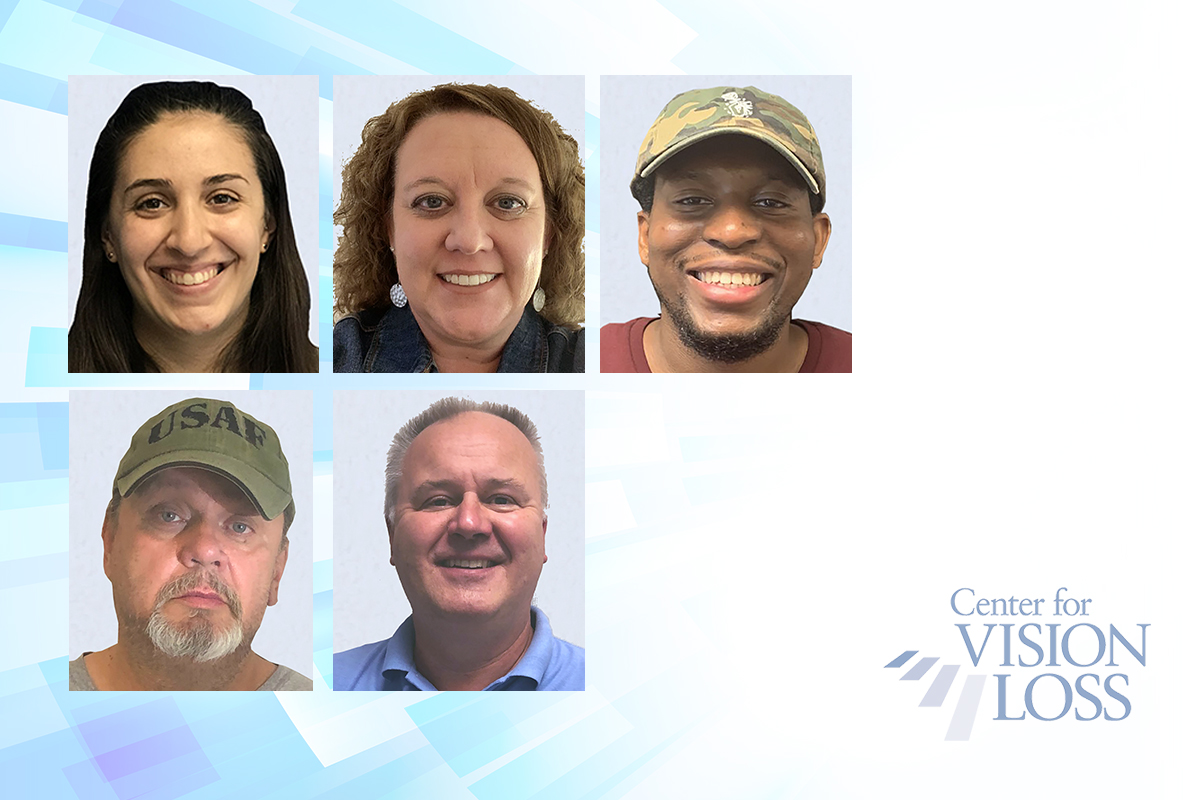 The Center for Vision Loss has welcomed five new professionals to its services team.
Erica Vibert is the agency's new Prevention Services Coordinator and Angela Hill is its new Prevention Specialist for Monroe County. Kareem Harvey has joined the agency's Monroe transport group, and Richard Hubbs and Les Schoneberger are the newest members of its Lehigh Valley transport group.
Erica Vibert will help manage the agency's free vision screenings for kids and community education programs. She has worked as an assistant teacher at The Goodard School in Bethlehem, PA; a daycare teacher at Moravian Academy in Bethlehem, PA; a substitute teacher for the Delaware Valley School District in Milford, PA; and a coordinator for the Warwick Valley Prevention Coalition in Warwick, N.Y. She has a bachelor's degree in Health Sciences from Moravian College.
Angela Hill comes to the agency from the Pleasant Valley School District in Brodheadsville, PA, where she has worked as a support professional. She also is a veteran catechism teacher, a volunteer soccer coach, and a sales consultant for Thirty-One Gifts.
The Center for Vision Loss' guided transport service connects clients with permanent visual impairments to life-sustaining medical care, critical food supplies, and agency services. Its drivers are trained in techniques to guide clients effectively in indoor and outdoor environments. When necessary, drivers also read paperwork, carry bags into clients' homes, and provide additional assistance.
The Center for Vision Loss empowers people with visual impairments to seize their independence and opportunity and champions healthy eyesight throughout its communities. With operations in Pennsylvania's Lehigh Valley and Monroe County, it combines a service tradition motivated by Helen Keller in 1928 with contemporary practices and advanced technologies. The organization's services for people with visual impairments promote the accomplishment of daily tasks, increased access to medical services and food supplies, enhanced personal wellness, and extended self-sufficiency. Its free vision screenings for children stimulate success in school and its community education programs advocate for eye health and safety. All agency services are provided at little or no cost, and 85% of its clients and patients with visual impairments are from low-income households.
The Center for Vision Loss is an independent member of the Pennsylvania Association for the Blind (PAB) that is accredited nationally by the Association for Education and Rehabilitation of the Blind and Visually Impaired (AER) and affiliated with the VisionServe Alliance, a network of North American agencies that serve people with visual impairments.