Sights for Hope and Endowment Earn Third Straight Platinum Seals for Transparency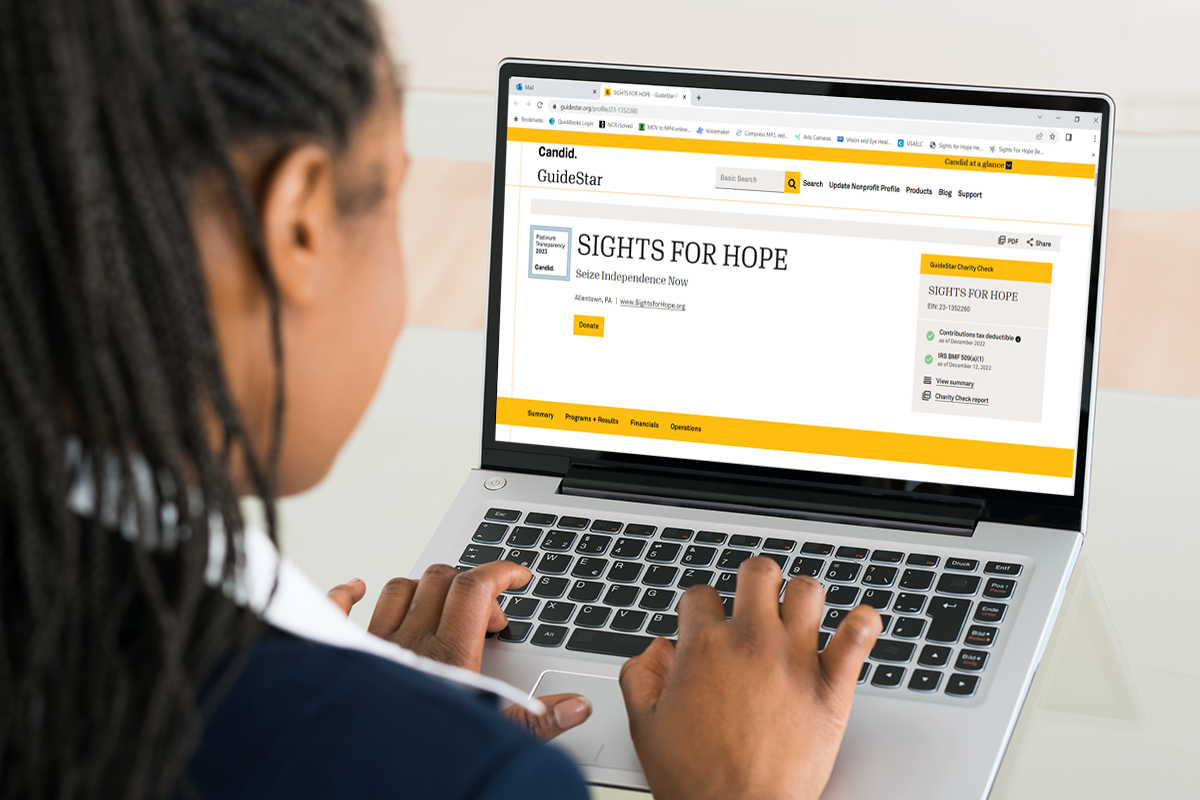 Sights for Hope and the Sights for Hope Endowment Foundation have earned 2023 platinum seals for transparency from Candid, the world's largest source of information about nonprofit organizations. This is the third straight year in which both organizations have earned this distinction.
Sights for Hope and its affiliated endowment have earned the highest transparency rating by providing extensive up-to-date information on the GuideStar by Candid digital platform. This information includes financial information and qualitative data related to goals, strategies, capabilities, progress, and results.
The seal program is designed to advance confidence among philanthropists about the organizations they support. Organizations that earn the platinum seal are considered among the top 1% of American nonprofits with respect to transparency. GuideStar, which was founded in 1994, merged with the Foundation Center, which formed in 1956, to create Candid. GuideStar by Candid has up to 10 million users and shares information with networks including Network for Good and Facebook. Approximately 13,000 nonprofit organizations provide information to the platform. Candid's seals do not reflect its endorsement of an organization.
Sights for Hope also earned the maximum four-star rating from Charity Navigator, the world's most utilized evaluator of nonprofit organizations, in November. An organization's transparency is taken into consideration for that rating.
Sights for Hope transforms the lives of people with visual impairments and blindness by removing the barriers to their independence. Sights for Hope's services teach adaptive skills to accomplish daily life activities; provide supports that counter the effects of visual impairments and blindness; increase access to medical care, healthy food, and other essentials; and advance solutions that enhance sight capabilities. More than 40% of Sights for Hope's clients live below or near the federal poverty line. Founded in 1928, Sights for Hope carries forward in Pennsylvania's Lehigh Valley and Monroe County a tradition of service inspired by Helen Keller and is a member of the Pennsylvania Association for the Blind.
The Sights for Hope Endowment Foundation is an independent nonprofit corporation that is affiliated with Sights for Hope and governed by a separate Board of Directors. The endowment foundation was established in 1980 to provide funding opportunities based on best investment practices to secure Sights for Hope's strength in the present and sustainability in the future.
Image: Photo of a woman looking at Sights for Hope's GuideStar profile on a laptop computer.